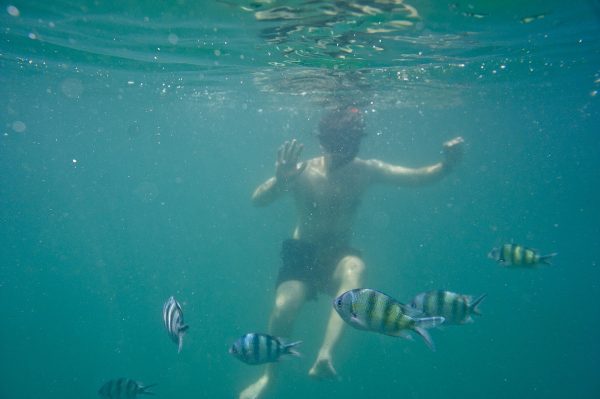 Hi. That's me up there with the fish. But at this point "me" is two different people. There's the name my parents gave me: Andrew Long, and my author pseudonym: A. L. Lorentz.
This site is meant to be a pooling of information (incoming and outbound) for both.
Why did I use a pseudonym? SEO for "Andrew Long" is impossible. I don't pretend to ever hope to dethrone the results for an All-American athlete (that then went on to go to prison, making him an even bigger news story) in Google search. Nor do I want to be confused with an artist in Texas, or any of the other results for my name, some good and some bad. Moreover, there already is an author with books on Amazon named Andrew Long. He writes children's books. If a parent ever downloaded and read my books to a five-year-old they might regret it.
Oh wait, maybe you came here for one of those short bio things. Here is the third person author schpeel from my Amazon author page (where I openly admit to using the pseudonym):
Andrew is employed as a marketing manager in Los Angeles. His spare time is spent writing, hiking or snorkeling. He has a BFA from The Ohio State University, and an MBA from Pepperdine University. Andrew spent many years drawing and painting sci-fi before writing about it. He has exhibited and sold art at Hive Gallery in Los Angeles, California.