Sunday morning started off with sleeping in late and pita bread cheese pizza. We went to Astoria park to play one last round of frisbee before heading off to the airport. The Metro bus line to the airport stops at the same Subway stop we'd been using the whole weekend (a mile walk). On the walk I had to take a photo of the "bumper protectors" that many cars sport in NYC. Because the space on the island is so limited, many (if not all) automobiles sustain heavy paint damage when parallel parking more than once. A new industry sprung up to protect those bumpers – and you see the ghastly result in this photograph.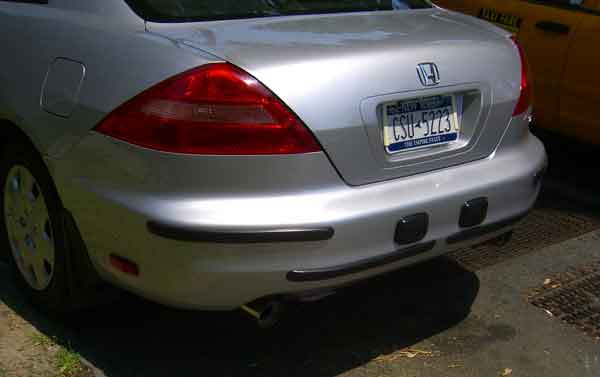 After we got there to our dismay the bus was running late. After my experience on Monday at LAX I was not looking forward to a tight squeeze in schedule. When the bus finally came after nearly a half hour I was told by the operator that my dollar bills were no good – I had to use a metro card to get on. The metro station was right there – so Aaron and I booked it up the stairs and ran to the card machine. We had a card out of the machine and were back on the street in under sixty seconds. The bus was pulling away by this time though. I turned back in dismay when Aaron pointed ahead of me and told me to keep running. The bus had stopped at the red light up the road. I ran and caught it. When I knocked on the door however, the driver refused to open up and motioned for me to go back and wait for the next bus.
Thankfully, when I turned around I could already see the next bus coming since the first one had been so late.
So, at just past 2:30 I was on the bus to Laguardia for a 3:30 flight. It turned out that American Airlines was the last stop in a long line of terminals filled with Metro users that didn't know the meaning of haste. I ran through the terminal and breezed through security. I glanced at the departures info and saw that my gate was gate 10. I ran. Then I ran more. Then I ran more. Gate ten was the last gate in the building. However, when I arrived I was dismayed to find out first that the flight had been delayed by over an hour. Then I was dismayed more when I saw that the terminal seating had been designed with a decidedly smaller crowd in mind – so I was going to have to stand while I waited on the plane.
Once the plane finally arrived we all shuffled in and prepared to takeoff only to wait in a long line of planes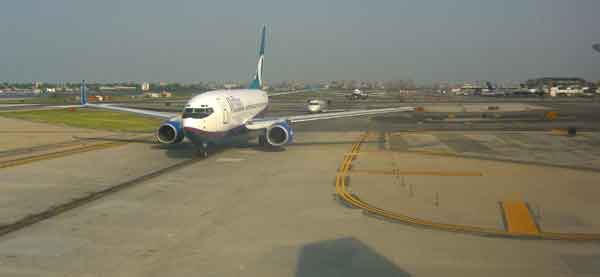 Once in the air I chuckled when I saw the in-flight movie was "because I said so," an abomination starring Diane Keaton and Mandy Moore as mother and daughter trying out online dating. In a pivitol scene Diane is driving down the freeway (of Los Angeles) in her Prius trying to catch up to her daughter and spy on their date when she is spotted and ducks… the car keeps going… Only moments before that she tried to figure out where her daughter was going via the in-dash navigation unit and became so frustrated when it couldn't comprehend her menopuasal babbling that she actually started yelling and kicking at it. Yes, kicking at her own car's dashboard and swerving all over the road. I pray to god that this is not a scene that many of the women in the initial theater audience could relate to. The film continued on in this manner in a caucophony of almost B-Movie worthy cliches.
I rolled my eyes and reached for my phone. When I obtained my Motorola Q I had also bought a 4 gig SD card in anticipation of plane rides like this. On the flight out I realized that my $80 studio headphones did not have a "2.5" plug that was necessary, but a "3.5." While walking on the streets of NYC I had stopped at one of the many electronics shops and purchased a convertor. Now I discovered to my dismay that the convertor wouldn't work with the design of the phone because of the shape of the rubber molding around the plug (the jack's base was too wide). Technology had thwarted me again. Rather than go back to watching Mandy Moore's attempt to be cuter than a baby panda and Diane Keaton's attempt to be ditsier than a dead busty blonde I decided to try and set my watch back to California time and go to sleep. I managed to reset the watch – but I discovered the next morning that I didn't do something properly because I'm still living on May the 27th….
When I got to DFW for my connection I was dismayed to find out it was on another terminal. DFW likes to boast that it is "the size of Manhattan." As you can imagine they've done the best they can – but getting from one place to another isn't exactly an instantaneous process. When I made it to terminal D I ran straight to my gate – #18. The signs said "Vancouver" however. It was then that I heard over the PA "This will serve as last call for flight 1667 to Burbank, last call." In my panic I started panning around and I happened to see what looked like a flight attendant putting a com- mic back down on the table at an empty gate two gates away. I ran over to discover that she had just made the announcement, and the gate for my flight was changed from #20 to #18 at some point while I was riding the tram between terminals. This was infuriating since I had literally checked the departures screen immediately before getting on the tram! What would American Airlines have done for me if I "missed" my flight?
In any event I actually did make the flight and three hours later (yeah, for some reason it takes an extra hour to fly FROM DFW to BUR than from BUR to DFW) I was back on home soil. For the first time in my life I felt real appreciation for my laid back California brethren. $45 later I was out of the long-term lot and on my way home.