In the Before Times, a visit from my parents would begin a minor adventure. However, during a despite-what-Swanson-heirs-say ongoing pandemic, one must find enthusiasm for outdoor eats and indoor treats.
In April the Biden administration had extended the mask mandate beyond the timeline of the trip, so I had fewer worries about a plane full of Ohioans sharing air until a Texas judge caused a minor kerfuffle and personal feather ruffle when she ruled that airlines were free to engage in viral trouble. I was subsequently assured by a former practitioner in the family that masks were the word on the big bird even if Texan judges' law readings remained absurd (it's a pandemic, haven't you heard?!).
But masks and PPE voices weren't the only tough choices. An intentional casualty of the pandemic in our house, the thinning of our personal automobile fleet to one blue roadster necessitated a rental car just to navigate guests on the roads mentioned in SNL skits about our neighbors. In a somewhat controversial and guilt-inducing move, we asked our guests to use Uber to travel from LAX to our home late on Thursday night. Surge pricing negated any savings in the short term from a rental but perhaps saved some time at destination arrival.
(side note: surge pricing in any other industry is called price gouging, LAX is one of the busiest airports in the United States, it's not an unplanned "surprise" when travelers need a ride from there, in fact, it's likely an expected customer influx calculated to be a reliable source of income well in advance at the corporate financial planning level, but what are ya gonna do. you're thirsty and the only Coke in town is now $20!)
On Friday, though, no car was needed as I took them on a memorized trek through the three canyons encircling our new residence (for the new residence was the primary driver of the flying time for two retired Ohio homebodies).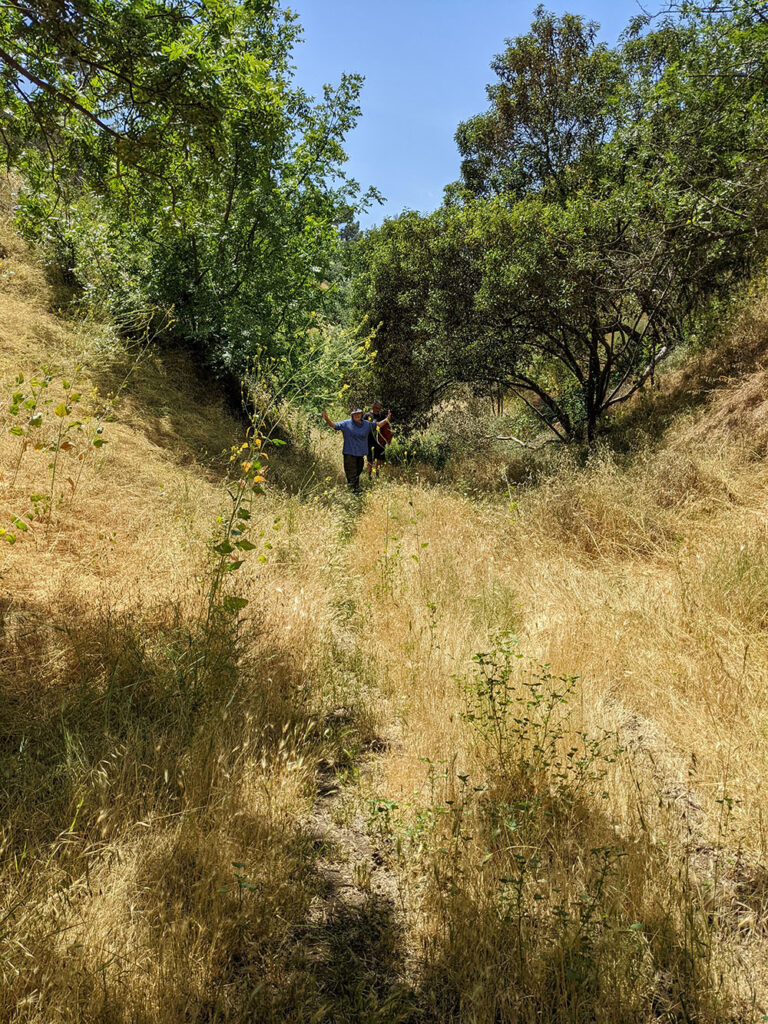 After returning all bodies to our new home Sam cooked bbq ribs, elote, margaritas, and other things. Ordinarily, a visit from Midwesterners would spark an ambitious search to expose them to the best of the western culinary arts. In times of uncertain immunity (we are all triple vaccinated, but vulnerable to the various and varying specific nature of the virus variants according to studies) Sam is happy to flex her chefward impulses to everyone's palatal benefit. With ice cream to follow, as is tradition.
Saturday we picked up the Budget rental. True to the name the car smelled like it just came back from spring break, complete with puke stains and dried food on the seats. When asked if Budget cleans the cars the attendant, in a hilariously unintentional self-own, said "we do our best."
We had to go back home to pick up the rest of our party anyway so I gave the whole Hyundai an alcohol rub down and a vacuum massage before they were allowed in. Unfortunately, once the AC got going we learned could stop the ferocious smell of teen spirit leftover from yesterday's AZU frat camping road trip to LA the out-of-state license plate and odors implied.
We held our breath all the way to Deukmejian Park and meandered around a few of the lower trails looking for a lead until we found the original vertical climb we picked out in the barn.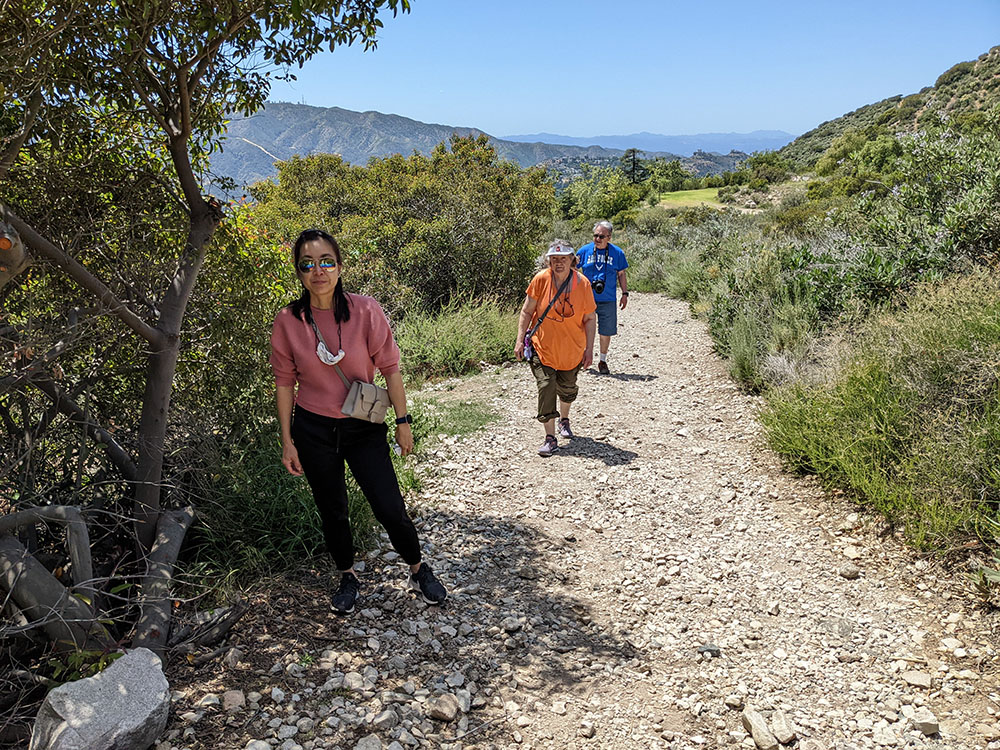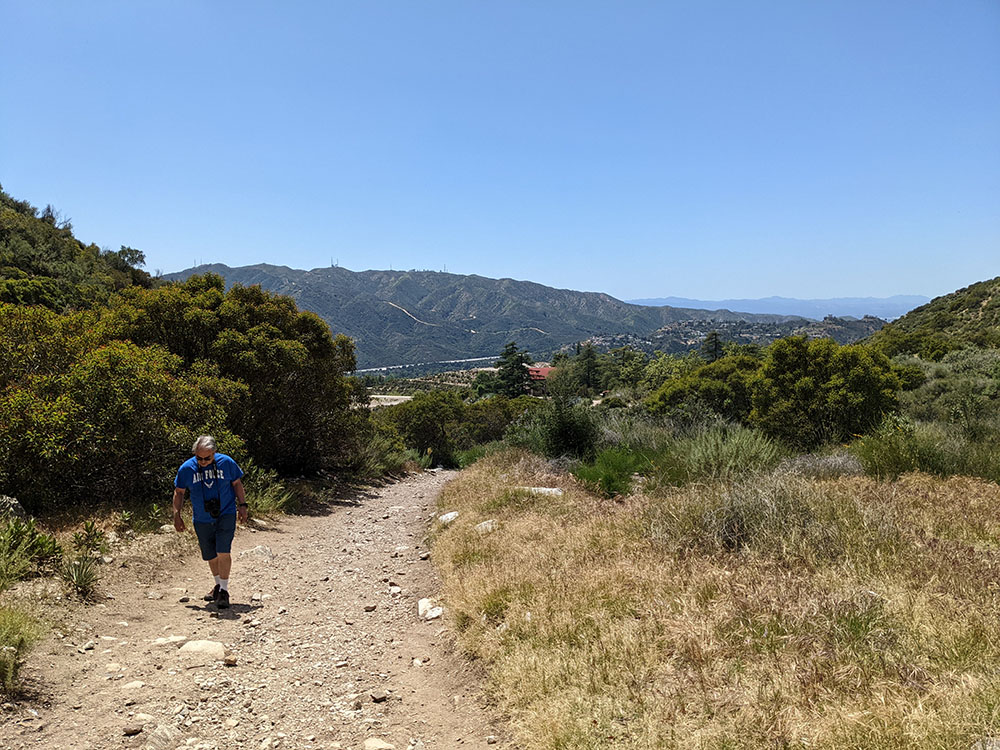 After a bit of back and forth on the trail and labored breathing from folks a bit sleep deprived and unaccustomed to the altitude we informed mom that the trail up would only continue to go up at the switchbacks all afternoon. Around the next bend is another around the next bend, ad infinitum into the sky. And then your knees have to walk back down from infinity too.
Joint crises avoided we pushed the four-cylinder slushbox up the hill instead, all the way up the 2 to Hidden Springs. (Hidden in the mountains just means at the bottom of the canyon)
By the time we got back to LA proper everyone was hungry enough to carb load at Tokyo Cube, a third time for them and maybe a 300th time for us, such regular patrons at one point they put our picture on the wall. Even after moving halfway across town we still find ourselves there from time to time. It doesn't hurt that the wait staff speaks Thai.
Back at home, I took advantage of the family discount for free medical advice from a retired nurse practitioner (back of the knee pain may be Baker's Cyst, otherwise known as proof-of-aging) and free home renovation advice from a retired engineer (verdict: the foundation is Earthquake secure).  Reassuring to hear from someone with nothing to gain from it after loads of fly-by-night and gone tomorrow contractors on Thumbtack tried giving us the run-around about how difficult our crawl-space renovation plans might be in order to balloon their fee into six digits.
On Sunday we took dad to church. Sam suggested we go early to beat the crowds and she was right. The chow down on fried oysters (his choice, the rest of us had fish) began around noon and freed us up for a visit to El Pescadorstate beach (El matador was full).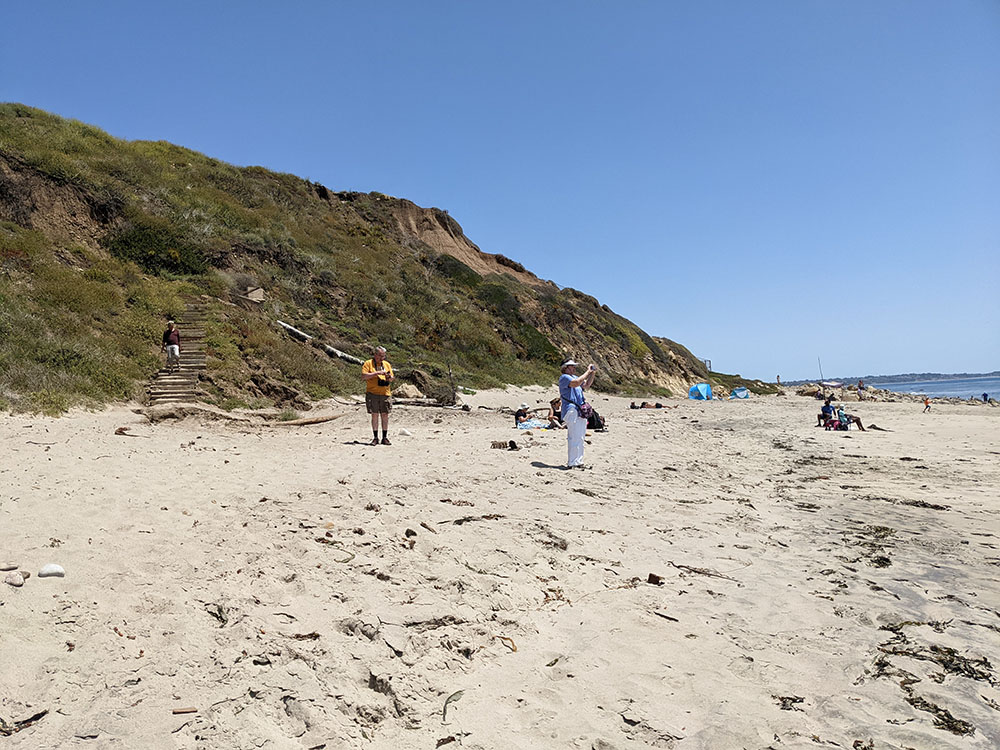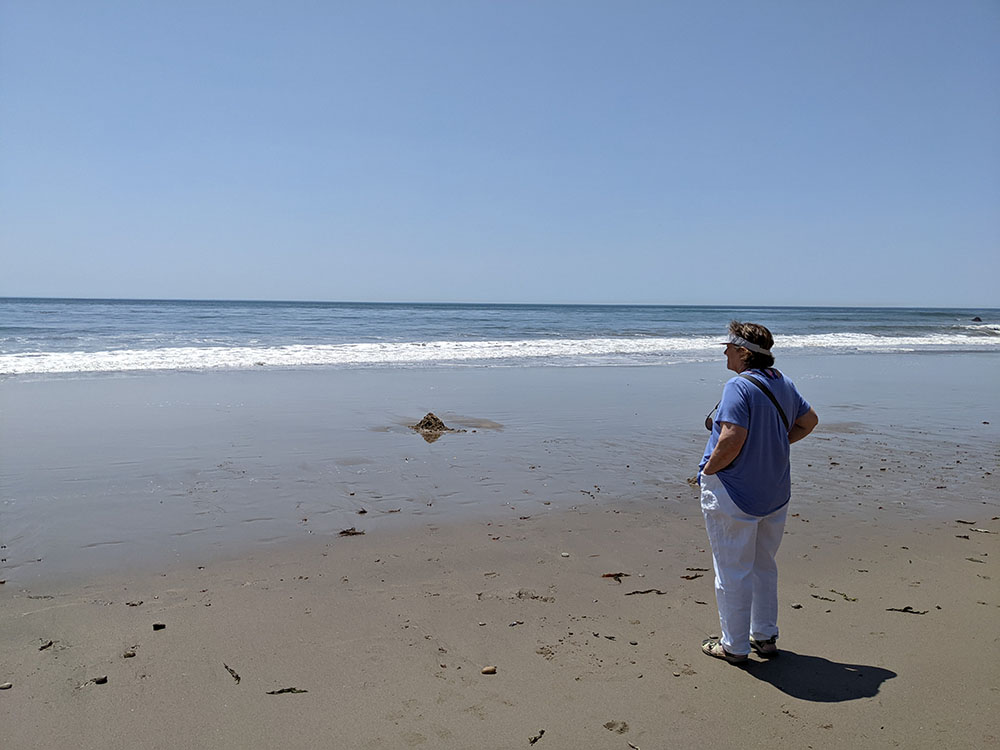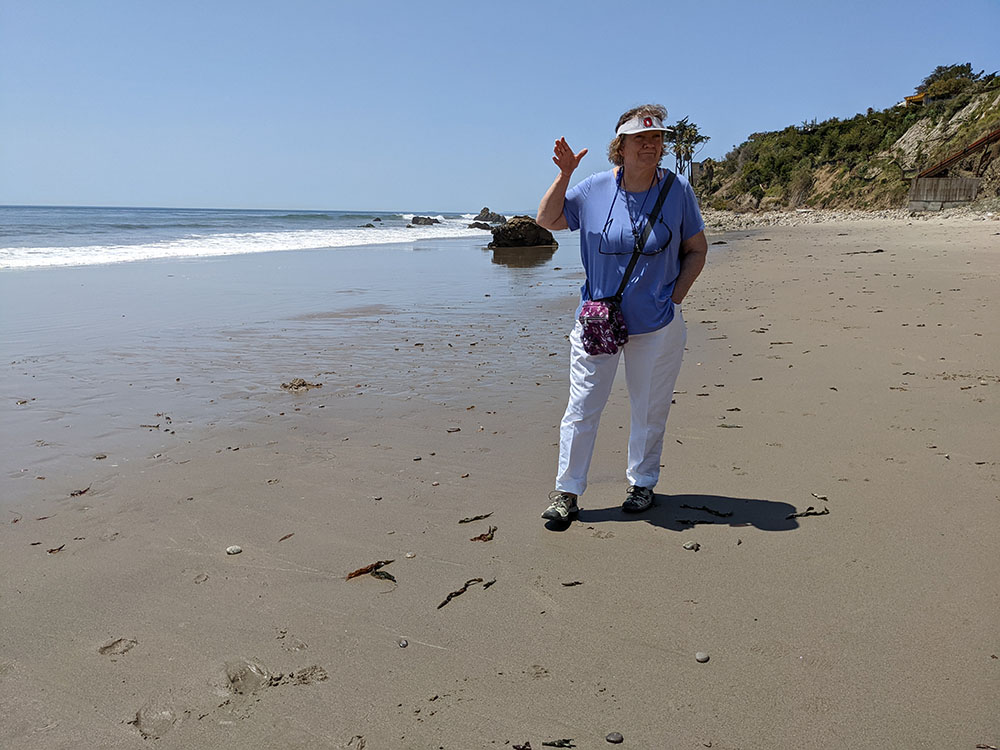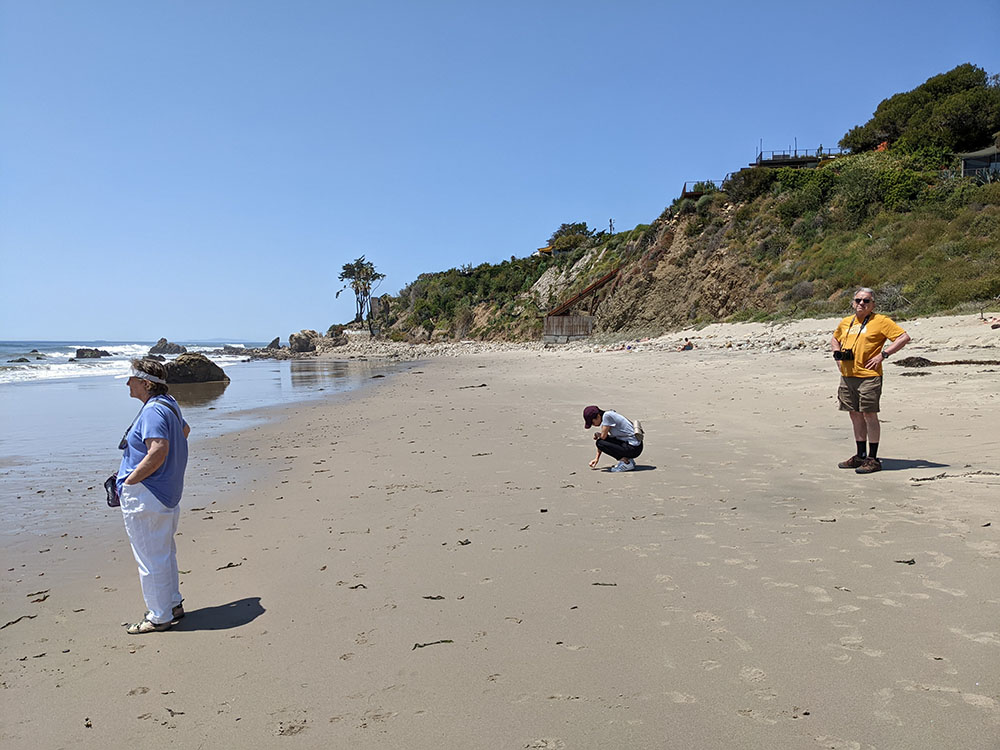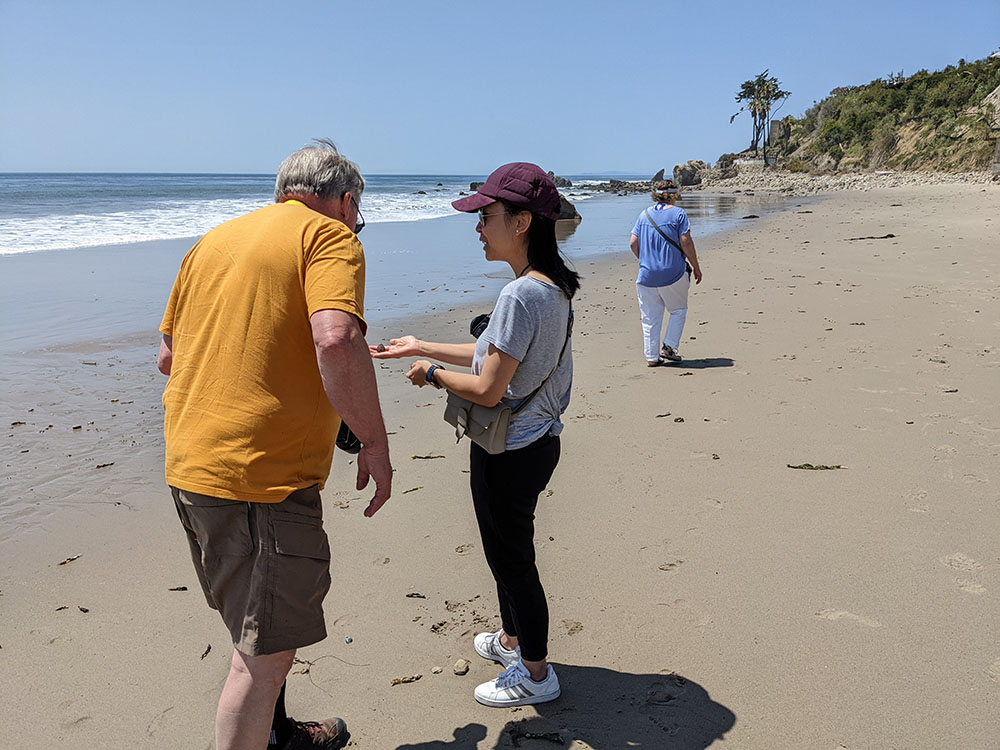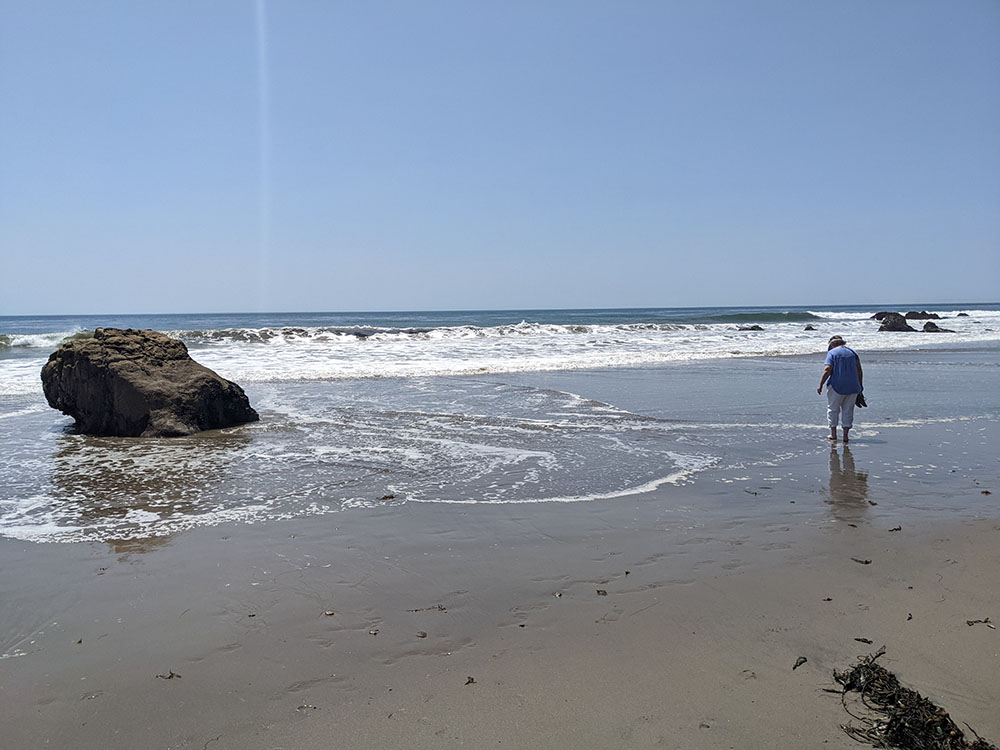 A long drive later we walked into Uli Gelato where my father remembered my favorite, and maybe his too, flavor there: black sesame. Already having a pint of that at home (thanks to a recent birthday and a friend with a good memory of a good memory), we took home two pints of olive oil gelato in addition to the flavors in our cups.
Back home we poured more margaritas (mom's CA drinking game) and went upstairs to fix stuck gutters, Sam risking her life with a broom handle and a fifty-foot (I don't know how many feet it really is, but it's enough to kill you) drop.
Monday we sat around until it was time for Sam to make quesadilla tacos. We tried to burn it off by taking a walk around the neighborhood but absolved any good intentions in bowls of olive-oil gelato mixed with chocolate ice cream (don't try it! we don't need you people buying up all the Uli olive oil gelato supply!).
Early Tuesday we tried the Uber advanced reservation system to get them back to LAX. It was a tad cheaper than the "surge price" trip our way Thursday night, but an $18 "reservation charge" didn't help, something I didn't notice until days later. I doubt it would have been hard to call up a car without a reservation at 8am on a Tuesday so I'm not sure where the $18 went, surely not into the hands of the driver.
Anyway, these auto problems will all be avoided when mom comes next, which is strangely enough only two weeks away when she attempts her first solo cross-country drive. I am definitely at the age where the roles have reversed, worrying about my parents' shenanigans instead of them mine.
Something else happened on this trip too, although I lugged it around, I didn't use my full-frame mirrorless; all the above pics were snapped on my phone. I'm not done taking "artsy" pictures, but a switch turned off (or on?) in my brain that used to push to make even candid family shots more visually appealing.
Of course, when folks find out we took this risk by having folks stay at our house (from a Covid-lax red state, no less), will we ever be able to convince anyone else to wear a mask here again? Should we?
At the office, I've been told I need to work on being "comfortable with ambiguity." I guess I haven't achieved serenity now around Covid risk yet. My aging brain is foggy enough, I don't need long covid adding more "ummms" to every presentation. Few in my orbit seem to share this concern, friends throwing caution to the wind and traveling to maskless (and positive cases rising) Europe in recent months, friends eating inside restaurants back home (despite cases rising here too), and all other "prepandemic norming" activities you can imagine. Perhaps my fate is inevitable as the actions of others will decide for me. Perhaps, as my brother suggests, that fate is not worth worrying about. Anticipation of regret is a tough pill to swallow, though, no matter how much relationship smoothing it provides.