After Victor helped me retrieve some deleted data from my hard drives this morning (my external is still a total loss, though) we headed down to the Wired NextFest.
We parked at the meters a few blocks away from the convention center – a trick I learned years ago that has never failed (to keep the $12 convention center/staples center parking fee in my pocket). As we walked toward the convention center two guys sold us their extra tickets for half price ($10 each). We decided to duck inside a small convenience store to get something to drink. The cashier asked us if we were going to the NextFest and gave us two free tickets.
After asking maybe ten people (and Victor was by far the better salesman) we were able to sell back our $10 tickets to other event visitors (who were also happy to get in for half price).
When we got into the show though we felt bad because it turned out to be surprisingly lame. We noted how dead the entrance hall to the Convention Center was (I've seen exhibits packed into the hall for car shows and other events). Once inside we were confronted with a darkened room with some "reactive" displays. I noticed right away that one of the displays that seemed to be getting a lot of attention was very similar to an "art project" I had to do in college for a "new media" course. There was a twenty foot long pipe suspended above our heads with lasers beaming down about every six inches towards the floor. When the laser beam was interrupted it would produce a note. At the end of the pipe there was a stream of fog flowing down with images projected onto it. It wasn't entirely clear whether the images corresponded to the "music" made by the laser beams. My junior year in college I did a three man project that involved a laser beam, a laptop, a projector, a speaker, a sheet and a fan to produce the same effect. I wondered why I was seeing something I'd already done on a college students budget five years ago at a show about "What's Next!"
It didn't get any better from there. There were a few talking and walking robots, interactive games, "green" energy displays, and a lot of pointless light and sound devices that interacted with visitor's cell phones.
Victor and I left after spending less than two hours inside the convention center. We then headed to the Baldwin Park mall for lunch where I was once again reminded how much I miss Mark Pi's Express (by eating Panda Express).
Here is an example of why you shouldn't park in those pay parking lots by Staples Center.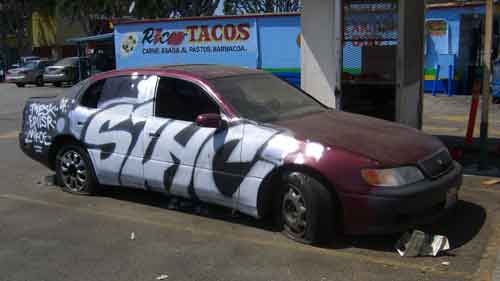 Here is a scientist sitting next to his evil robot twin. Which one is the robot? Well, it was the one that looked dead except for a few eye movements and hand twitches.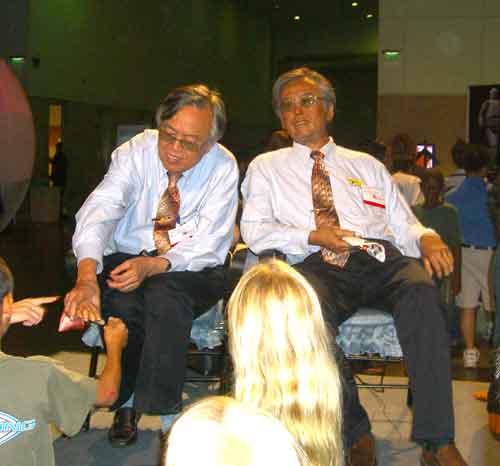 Didn't anyone see IRobot? It was a terrible disappointment of a movie – so I can't blame these engineers for not watching it – but they succeeded in creating a much creepier "human" faced interactive robot. This guy didn't talk, he just creepily looked at you and then played copycat with you.