Unfortunately our whale watching expedition was cancelled on Saturday, so Sam and I ate fried fish and then worked out.  Saturday was a big night for the Los Angeles art scene. Several key galleries had major openings and all around the same time.  The first up was GR2.  GR2 stands for Giant Robot 2, as the original (?) Giant Robot store is in San Francisco.  The gallery/store had a slew of items on sale for donations to Japan.
Sam bought two of the limited edition glass bottles with prints.  These were by David Horvath and were the last two available:
When we returned home she informed me that she had bought two because one was for me.
The entire GR2 show is on Flickr here, but I'll re post a few of my favorite pieces below:
Next we were off to Culver City to visit the Corey Helford gallery for the Henry Lewis show.  I was largely unfamiliar with his work. The gallery was packed.
There were elements I liked, but overall – I liked the "unsold from past shows" gallery upstairs more.
Amy Sol – "Zoe"
Eric Joyner – Dark Clouds
This was the best painting in the entire gallery – but I could not find it on Corey Helford's past shows web page so I've uploaded my own photo.  No idea who the artist is, but I wish I could check out their other work.
After weaving through the crowd we walked a few blocks south to view the Anime themed LeBasse Projects' SugiPOP show, which was largely empty.
I don't know who the top artist is since LeBasse doesn't see fit to update their "current" shows page with … anything (it is blank).  I know the bottom image (orange) is Audrey Kawasaki.
We walked down the block and checked out the current show at Thinkspace.  Nothing was very interesting except for the originals and prints in the back room by Audrey Kawasaky, Tran Nguyen, etc. that are always back there.
Our last destination for the night was the Copro gallery for the Dystopia show.  I had been excited about this show since I heard about it because there was supposed to be a painting by Zdzislaw Beksinski.  I thought this turned out to be false, I couldn't find a Beksinski piece anywhere, but I later learned that the big piece above the show title (which was the only piece without a tag, coincidentally) was his.  It doesn't look like most of his other work, so I didn't recognize it.  It looks like a bearded pilgrim zombie woman.  Beksinski usually does atmospheric landscapes and/or boney multi appendaged figures.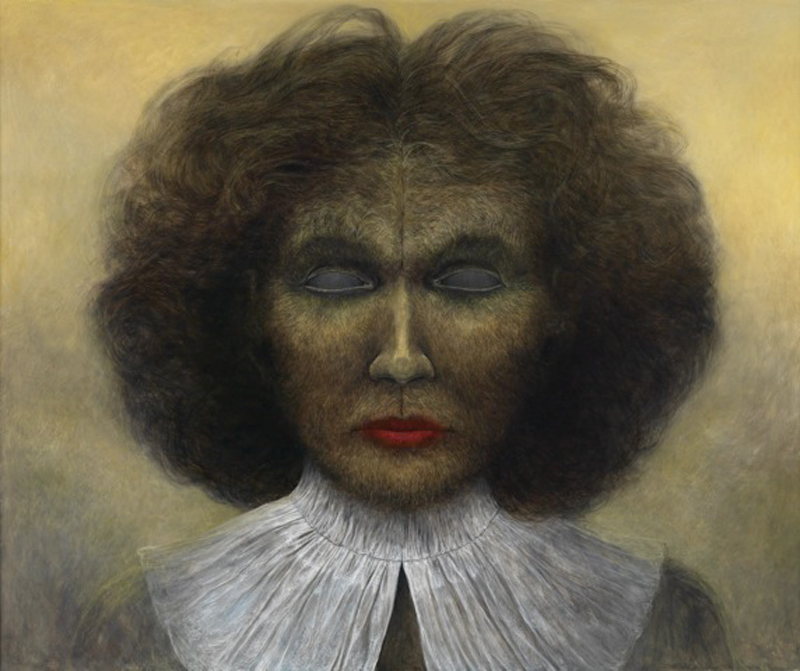 However, the Copro was the last place we visited in the Bergamot complex.  Saturday night was actually the most packed we'd ever seen Bergamot station.  People were blocking egress and parking where no parking existed.  We visited several galleries.  One large gallery had a full size train car in one room and a full size (but fake) tank in another.
The William Turner Gallery, which is usually filled with crap so obviously bad (usually "pop" art) that we don't even enter the building, had some really interesting paintings by Suzan Woodruff.  It is rare that I see abstract art that I actually like – but a lot of her paintings have a fascinating quality – the show was called Luminous for two reasons: #1 the works display a contrast of rich colors (full saturation) which makes them "glow" and #2 she mixes metal flakes in all the paints so they glitter up close and shine/glow from far away.
When we finally got to the Copro around 8:30 the place was packed and there was a line for the Grilled Cheese truck out front.  Yes, that's right… I wanted to try it so bad (they even have sides of tomato soup!), but it was already too late in the evening to eat a bunch of bread and cheese.
The guy in the middle there was doing his best Andy Warhol impression (not sure if that hair is a wig or not).  I think a lot of the artists were in attendance, but the only ones that I know by appearance are the father and son team of Chet and James Zar, who were outside by the ramp by the time we arrived.
The show at the Copro was great, even without the Beksinski piece/s.  Here are some of the pieces I liked:
David Bowers – Genesis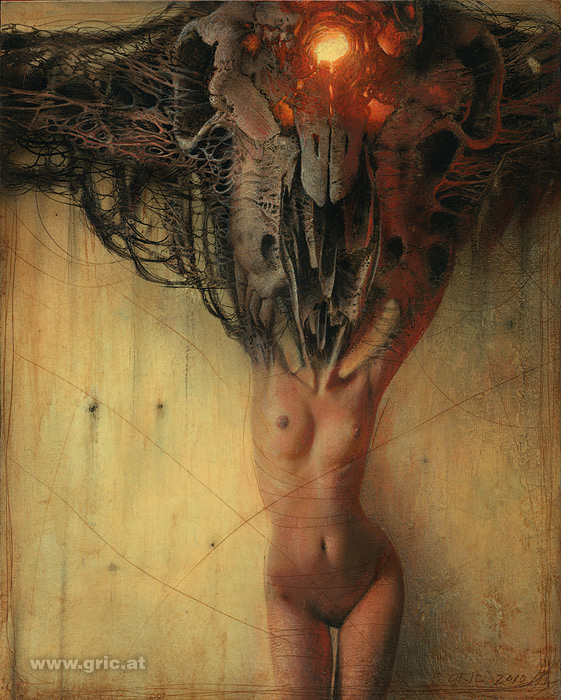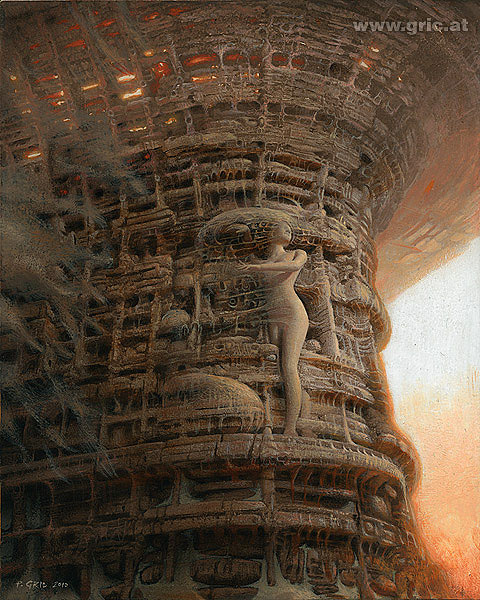 Two paintings by Peter Gric.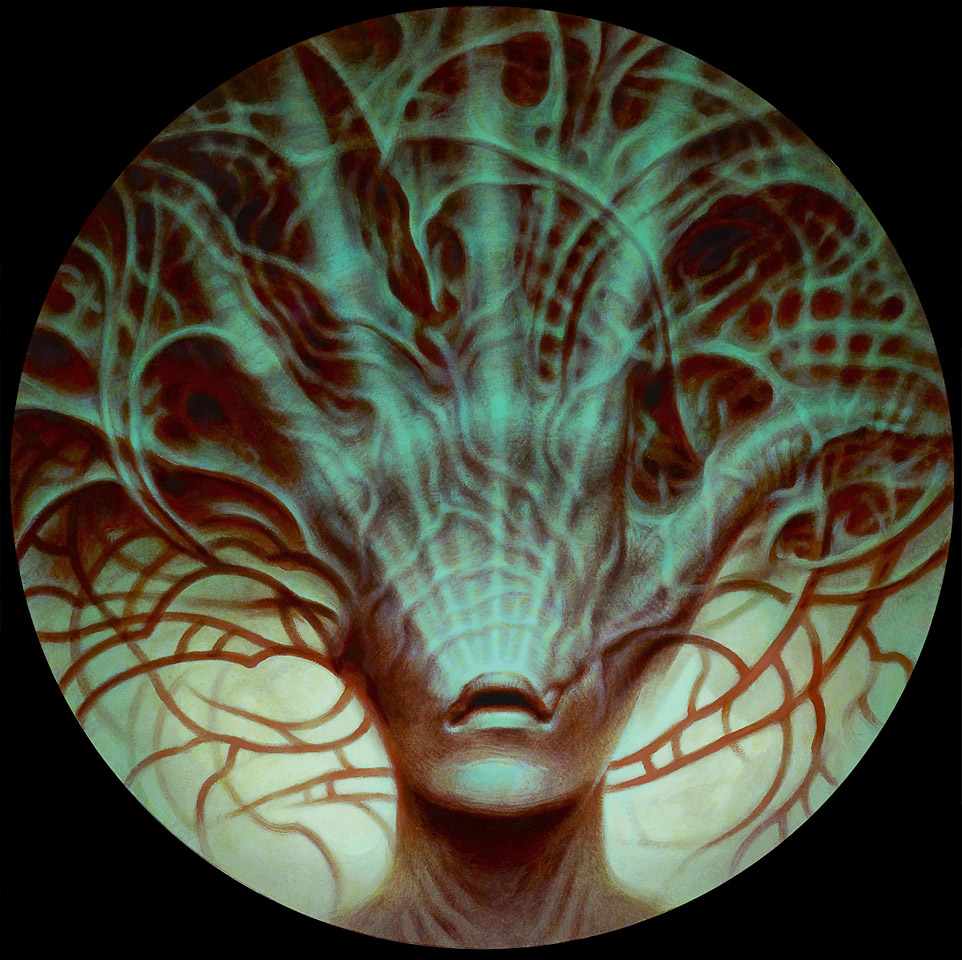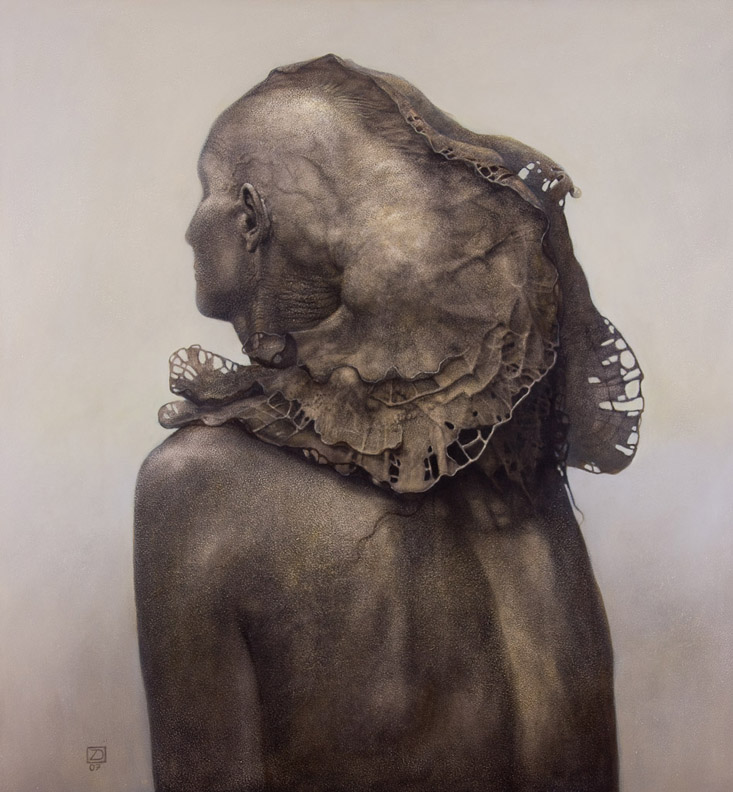 The Copro's other room was taken by a show for Candice Tripp, Annie Owens and Matt Martin.  The first two I wasn't impressed with, but Matt Martin's work is great dark realism.
This last Martin piece looked more Beksinki-like than Beksinski's own piece in the show:
On Sunday we had planned to go to the Getty with Sam's college friends S and K.  (I'm not going to state their real names since I'm not sure she would appreciate me doing so) Since it rained literally all day on Sunday we went to eat at Mitsuwa marketplace instead.  S and K live in Thailand and are here for a few weeks while K is here on business.  Sam had told me that K was an actress in Thailand, but I later learned that she isn't only an actress but a quite famous actress and Thai musician selling over a million records.  I learned this from her own wikipedia page which I visited out of curiosity arising from the story I'll tell next.
Mitsuwa is notoriously hard to find a table in.  It is set up as a grocery store with a bookstore and a large cafeteria with 4 or 5 restaurants – like a small "food court" at a mall.  Supposedly the ramen restaurant inside has the best ramen in Los Angeles.  On a rainy day people want hot soup  – so the wait and line for the ramen was long on Sunday.   I actually prefer skinny thai noodles or pho to the fat noodles in Ramen, so I went and got something elsewhere.  When we all had our food we looked and looked and looked for a table.  Finally a party of four got up and waved us over.  It turned out they were going to give us the table because they were fans of K's and agreed to give up their table if she would take pictures with them.   I can only imagine what it must be like for her and S to go anywhere to eat in Bangkok.
Next we took them to Costco, where you can buy 3-packs of wine cheaper and easier than one bottle of the same in Bangkok.  This held great appeal for S and K at first (stocking up on items to take back), but by the end I think S was as weary of the "Costco Experience" as I always am.  Hopefully we'll get to take them to the Getty next weekend.