On Saturday night I went to the opening of the June Hive show (that I'm in).  The art this month was better than last I was happy to see.  However, I'll post all about that after visiting the show again on the art walk this week.  After the Hive I picked up Sam and we went to the Copro to see the "Surreal Collective" show.  This was one of the best shows I've seen in a long time.  The level of craftsmanship on many of the paintings was mind blowing.  One particular painting (listed for $19,000) by David Bowers featured details so fine that using the real material (cloth, string, beads, etc.) would have probably looked less "real."  I have no idea how to make lines that fine with oil paint.  Unfortunately jpegs don't do any of these paintings justice – as all the fine details and opacity of color are lost – but I'll post them anyway:
The detail on the feathers and beads and fabric on this were still amazing even when pressing your eye close enough to lose focus.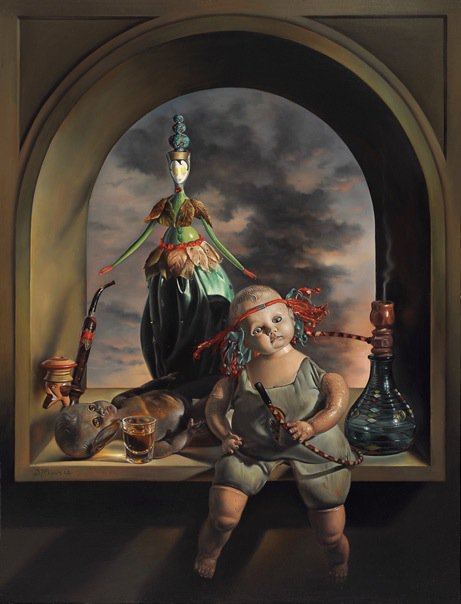 There was something dreamy and fantastic about the mood in this piece: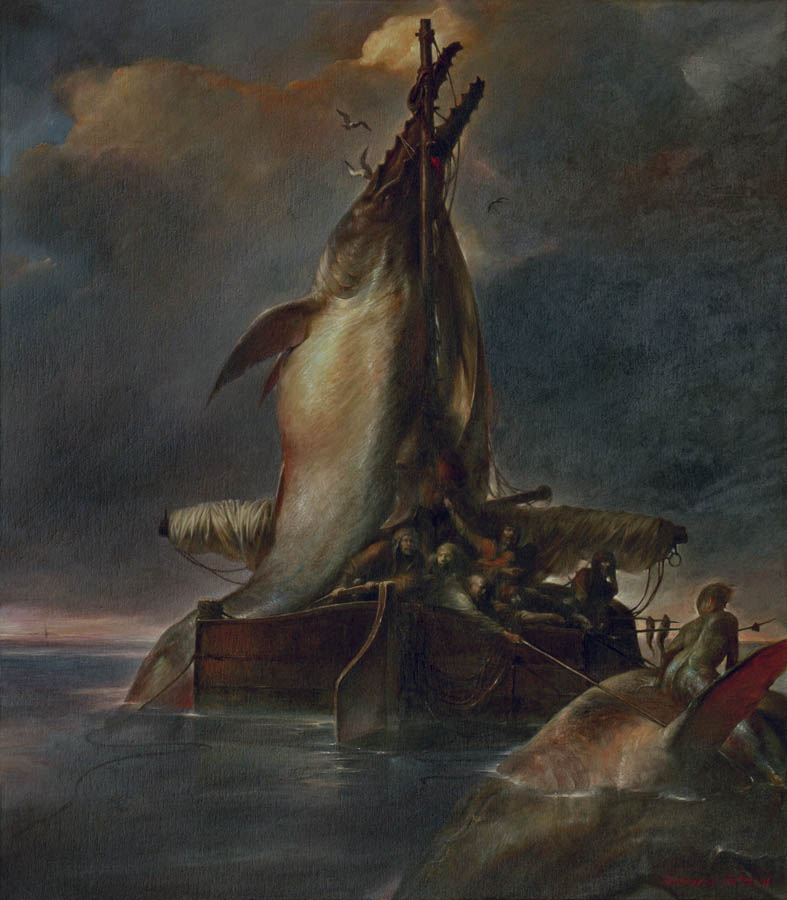 There is going to be a fight at some point between Darius Zawadzki and Peter Gric over who is the true heir to Bekzinski's throne.  Darius threw quite an opening punch with this piece – CLEARLY reminiscent of Zladislaw: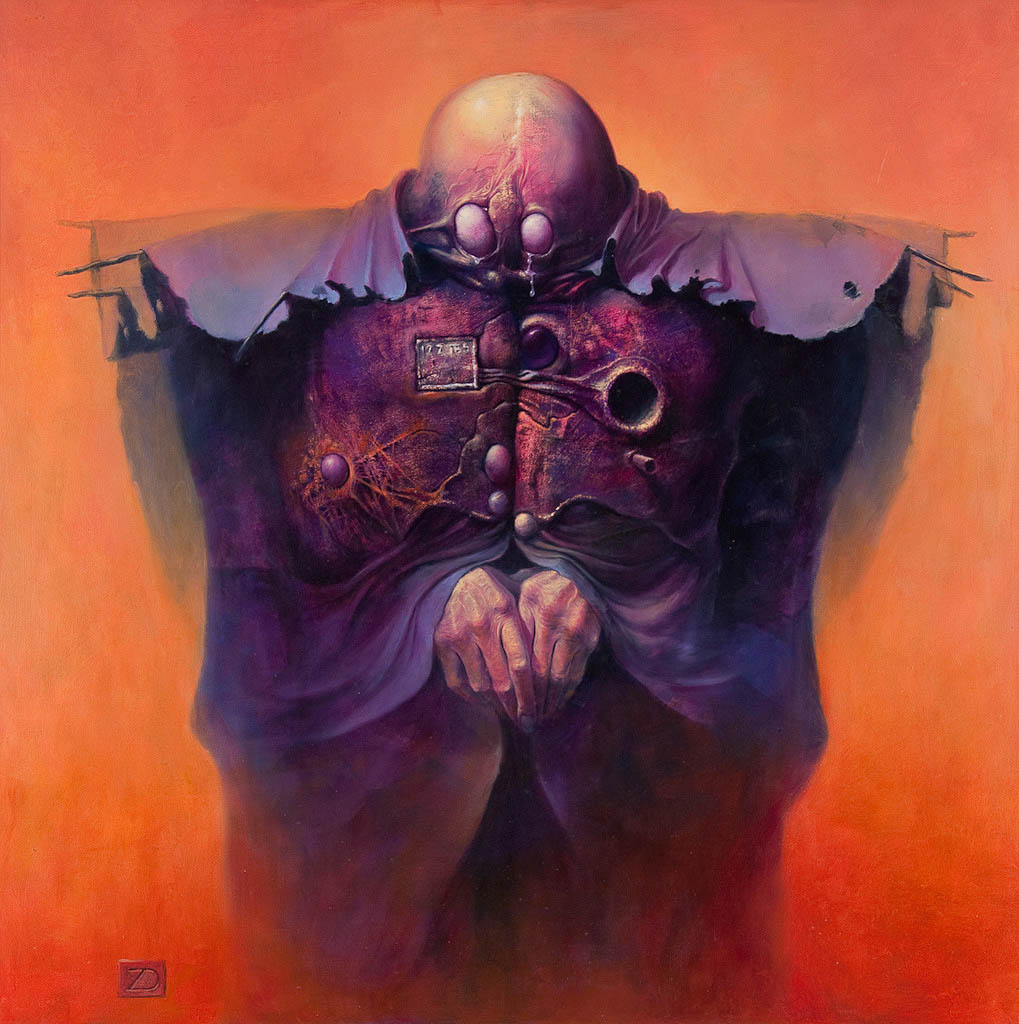 But Peter also had this detailed piece at the show: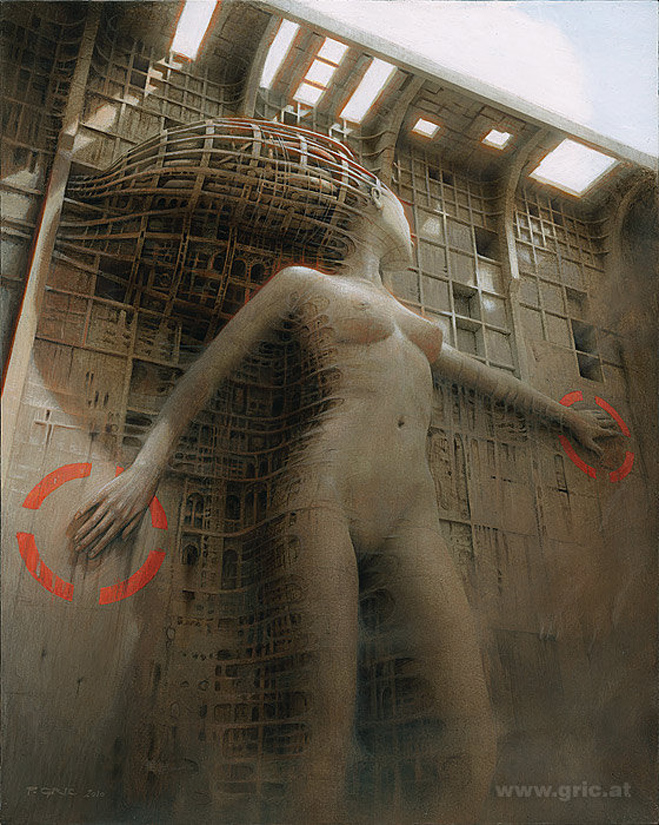 The father and son duo of Chet and James Zar were also in attendance.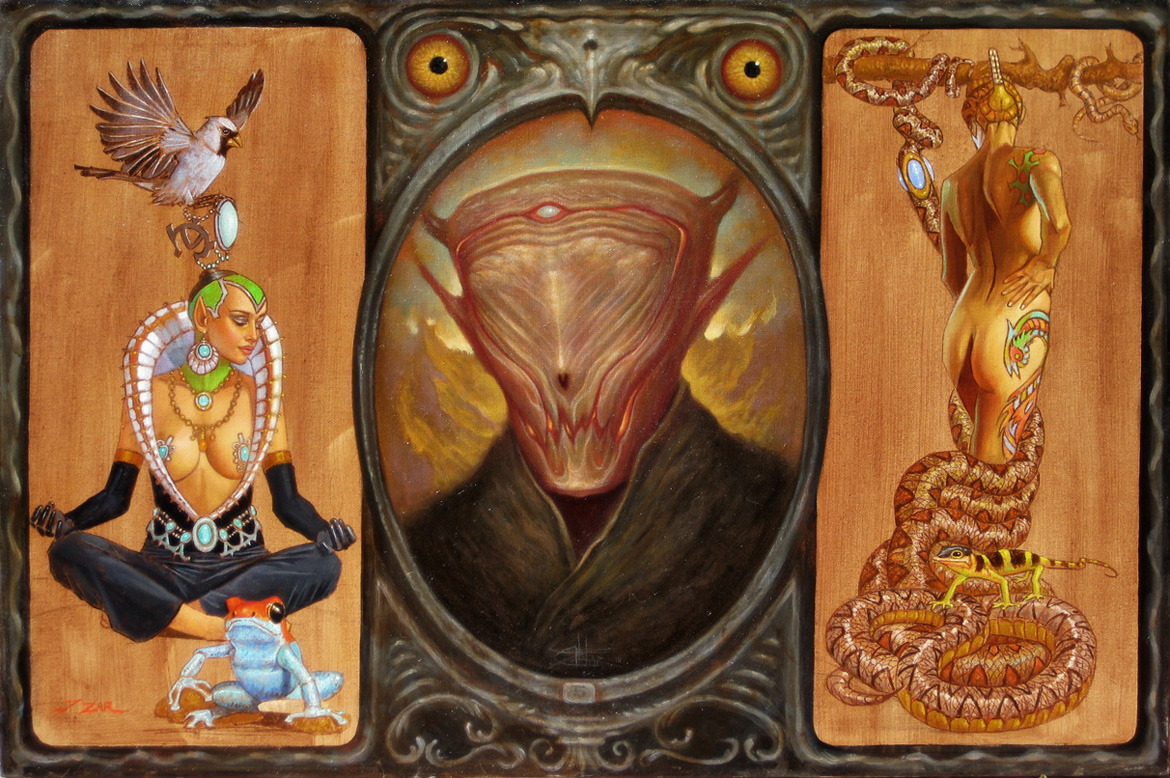 There were a lot more pieces in the show, and the always amazing permanent (?) collection behind the front desk at the Copro.  I urge you to go see this show if you are in the Los Angeles area.
Speaking of which – I gather now is the best time to be a young (or old, I suppose) artist in Los Angeles.  The Atlantic just ranked Los Angeles as the number one city in north america.  I believe it.  This weekend there were too many art shows to actually attend.  And all looked good.  I didn't even get to see the shows in Culver City, or the JAW Cooper opening at Luz De La Jesus… hopefully next weekend….
It looks like there is going to be a war between Santa Monica, Culver City and downtown for who has the best young artists (exhibiting).  I'm going to bet that Culver City will win.  Although downtown is becoming more hip, you have to be rich to live in one of those million dollar lofts.  Santa Monica suffers a similar problem –  Copro routinely has the best art from the freshest artists, although receiving recognition – these artists probably can't afford a home in Santa Monica.  Culver City on the other hand is just a few miles east, and has a booming younger demographic of educated young professionals – a crowd ripe for  interest in the art of their peers.  Santa Monica proper is still filled with somewhat stodgy aging success stories (the former president of such and such film studio or manager of that actor or band you've heard of – or the actor or musician them self).  The rent is cheaper in West Los Angeles.
Ah – but what about Silverlake/Los Feliz/Echo Park?
Sorry, none of the good artists I've met so far fit the hipster description.  As "hipster" quickly becomes a dirty word, the twenty and thirty somethings in LA are migrating away from the packed-in dirt and neighbors working at pizza hut (while their band struggles to get a deal) of Silverlake and moving further west, closer to the ocean, and probably closer to their jobs as well.  LA insiders know that Wilshire boulevard west of the 405 (and north of the 10) is quickly becoming a new business center – there are rumored to be as many as 30 embassies in a mile stretch.  Major companies like Google are setting up shop there.  Hollywood types are doing their business down closer to the ocean as well, current Spielberg in-waiting, J.J. Abrams has his office a few blocks from Cloverfield Boulevard (why did you think that movie was named that?).
So all this is going on.  I'm an artist.  Where am I?
=(